DIMITRA VIVELI > THE LIBERATION OF ANDROMEDA + TRANSCENDING TONALITY: AN OPEN DIALOGUE
The exhibition seeked to trace and showcase an active, interactive, ongoing existential procedure that focuses on the unseen, immaterial mechanisms of meaning-making, on the one hand, and the particularities of inspiring meaning in matter and enabling it to shape accordingly on the other. Contrary to approaches that seek to establish a mind-body relationship based on comparisons and contrasts, this venture leans on mere, undefined triggers that facilitate the observation and participation in a dynamic continuum of unified life.
THE LIBERATION OF ANDROMEDA was originally presented in two narratives - events (LIBERATING ANDROMEDA and ANDROMEDA LIBERATED) in London, in 2014. The TRANSCENDING TONALITY collection was presented for the first time.
21 March - 30 May 2019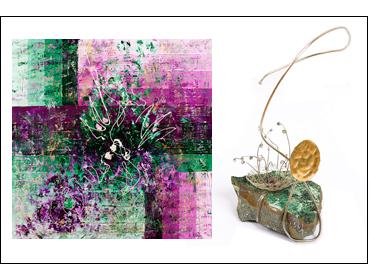 Subscribe to our newsletter
We respect your personal data and will use your email only for the purpose of sending you the newsletter. We will never transfer your data to a third party. You can always unsubscribe from the mailing list by clicking the unsubscribe button at the bottom of the newsletter. 
Zacharitsa 14
11741 Athens
Greece
email: info@onrepetition.com